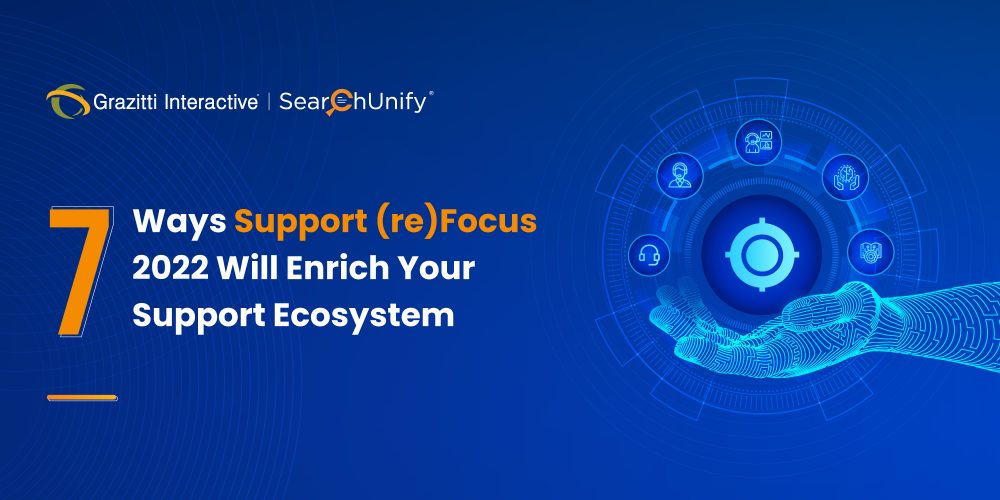 In the world of break-neck speed, many hold the notion that winning customer support is a gift bestowed upon a chosen few. The truth is that support enthusiasts are always at the shoreline with waves of uncertainty and evolving challenges lapping at their toes.
But events like Support (re)Focus 2022 remind us that we have enough to batten down the hatches and conquer the roadblocks.
For the uninitiated, Support (re)Focus 2022 is an immersive, global virtual conference where a lineup of industry juggernauts come together to foster conversation and learning about elevating customer & employee experiences.
Let's take a quick look at the sessions lined up for the event and what they'll entail:
1. [Opening Keynote] 6 Ways Customer Support is Driving Revenue & ARR
Studies show that the companies that view customer support as a value center drive 3.5X more revenue growth.
Despite that, only 10% of B2B companies consider it as a strategic center while 66% believe it to be a cost center. Crazy, right?
But companies need to understand that there is a strong correlation between customer satisfaction, subscription renewals, and support experiences.
Want to know more about it? Our industry juggernauts — John Ragsdale, VP of Technology Ecosystems at TSIA, and Alok Ramsisaria, CEO of Grazitti Interactive, will pave the way and share not one but 6 sure-fire ways to bolster revenue.
2. Leveraging Search Insights & Augmented Intelligence for Support Success: The Databricks Story
TSIA suggests that customer satisfaction with self-service averages a mere 3.5 out of 5.
Recent investments in frontier technologies—Artificial Intelligence (AI), Robotic Process Automation (RPA), etc.—have shown massive developments in the customer support industry. Yet, they also risk exacerbating digital divides and creating new support challenges.
Databricks, a leading data lakehouse & AI company, witnessed something similar. About 88% of users created cases without attempting to self-serve and 81% of users created cases directly on the help center.
But its team grasped the nettle and skyrocketed case deflection. Want to replicate their success story?
Join Gopala Krishnamurthy Sangesapu, Director of Support at Databricks with SearchUnify aficionados—Divanshi Arora, Rajesh Jangid, and Taranjeet Singh — in an edifying session where they will share the strategies they devised to make it happen.
3. Ensuring your KCS Program Doesn't Become a "One-hit Wonder"
Did you know that KCS improves time to proficiency by up to 70% and gives you 30% more satisfied employees?
KCS is extolled for capturing resolutions at scale and in ways that are both findable and reusable. But after the initial kick-off, the trouble of moving the KCS program in the right direction comes knocking!
In light of this, we are conducting a high-octane panel discussion with well-known KCS juggernauts. The conversation will feature Arfinn Austefjord, Global Head of Training & Certification, KCS Academy, Sahana, Senior Manager, Automation Anywhere, Phil Verghis, CEO & Founder, Klever Insights, and Brian Corcoran, Certified KCS Practitioner & Regional Manager, SearchUnify.
Together, they will iron out the wrinkles around KCS programs such as limited insights on ROI, poor knowledge-sharing culture, unsuccessful executive sponsorship, and the list goes on.
4. Your Questions Answered: Realigning Premium Support Programs for Today's Economy
Premium support is booming across the support industry. It is empowering organizations to meet and exceed target revenues while taking their support experiences to a higher echelon.
Despite that, TSIA revealed that only 16% of customers are on premium contracts.
So, how can the companies move up the number? Hear from industry pioneers — Dan Reese, Patricia Lughezzani, Francoise Tourniaire, and Vishal Sharma — themselves. Together, they will unravel various ways to package your premium support plans forward and much more.
5. Transforming your Customer Community into a Value Center
Plummeting case deflection numbers indicate that your support success plans are turning topsy-turvy. So, how to spike them?
ServiceTitan knows the answer. Its team added SearchUnify into its tech stack and circumvented all customer community challenges In one fell swoop.
Impact numbers, you may ask. The search yielded more valuable information as it provided accurate answers to around 70% of people searching for them. An additional 12% of deflections also stemmed from the case creation page. This way, ServiceTitan deflected a massive chunk of tickets. Startling, right?
Want more scoop on it? Hear it straight from the community pioneers — Sarika and Emily from ServiceTitan —in a thought-provoking session.
6. Building Real-Time Omnichannel Support for Customers
Companies with omnichannel customer engagement strategies retain on average 89% of their customers.
Omnichannel support has revolutionized the customer support industry. After all, it connects experiences across channels to make them completely seamless. But many companies struggle to strategize and implement it.
Tune into the riveting session where Yogesh Kulkarni, Dev Manager at Qualys & Mohd Rizwan, Technical Manager Salesforce from Grazitti Interactive share their two cents on creating an omnichannel strategy for support success.
7. How Customer Support Can Own a Seat at the Table
Support is no longer just about answering customer queries anymore. It has grown to influence the decisions of every other department, such as customer success, sales, and product.
But the Customer Service and Support Teams (CSS) face a ton of challenges.
Shedding some light on this and helping the CSS teams to operate seamlessly, we are bringing industry stalwart — Wanda Brown, Senior Executive for Diversity, Equity, and Inclusion Consulting and Learning Services—to share some impeccable tips & tricks for empowering support leaders to prove their mettle.
All-in-all, It is Time for Your Customer Support to Overhaul! Attend Support (re)Focus to Know Where to Start!
With baffling customer support woes looming, the biggest innovators and leaders continue to navigate their ship through the murky waters. Support (re)Focus provides them with a platform to share their tale with the world.
The event's third edition will unfold on December 8 at 8 AM PST virtually. You can find more details and register for the event here.
Hope to meet you at the event! You never know what serendipity has in store for us! ?