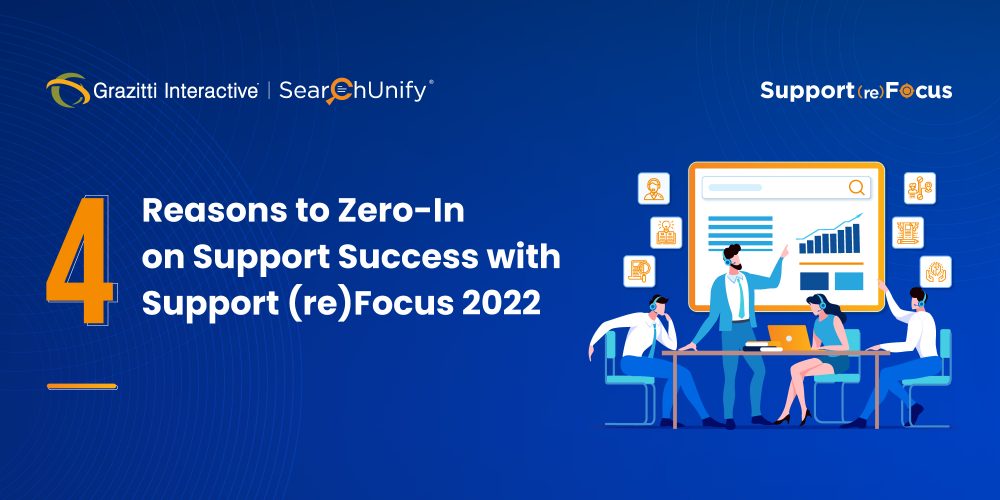 Accenture opines that the companies that view customer support as a value center drive 3.5X more revenue growth.
Rapid digitization and ever-evolving customer expectations are constantly creating a massive technological revolution. And it seems like this will carry on.
The only way to succeed is by keeping yourself up-to-date with current trends and taking action that is tailored to your organizational needs.
In light of this, SearchUnify & Grazitti Interactive are hosting the biggest virtual conference—Support (re)Focus 2022. The event will be brimmed with exciting keynotes by luminary speakers, in-depth sessions by industry juggernauts, award ceremony for forward-thinking organizations, dedicated booths by technology solution providers, and much more.
So, make sure you fathom ingenious support strategies and trends from luminary speakers while gracing this fiesta with your presence on Dec 8 at 8 AM PST.
Since the cat is finally out of the bag, here are 4 reasons to attend this support carnival:
1. Take Home Insightful Information
Over $1.3 trillion is spent worldwide every year on customer service calls, according to IBM. So, it won't be wrong to say that a promising support function is no longer a tagalong but the be-all and end-all. This is where Support (re)Focus 2022 comes in. It is a definitive event that offers a 360° view of the key trends in support technology, premium support model, KCS, intelligent swarming, etc.
That's not all. It will bring together support connoisseurs for various panel discussions, keynotes, insightful sessions, case studies, and more to help you create personalized customer experiences and troubleshoot problems along the way.
2. Learn and Engage with Sans Pareil
Being a synergist for networking and learning, Support re(Focus) 2022 brings together industry leaders such as John Ragsdale, Alok Ramsisaria, Arnfinn Austefjord, Francoise Tourniaire, Patricia Lughezzani, and Vishal Sharma among others from the largest enterprises and research bodies. The panel has 200+ years of experience building and scaling support functions across verticals.
That makes it the best place to finesse your technological skills and fine-tune your support framework. From extended breakout sessions, fireside chats, panel discussions, live QA sessions, etc., this fiesta will change the way you look at support, intelligent swarming, KCS, premium support function, and much more. Also, participate in polls and chats and get your questions answered directly by these industry pros in real-time.
So, make the most out of this support 101 because as renowned businessman Dan Gilbert quoted "There's nothing better than people talking to each other, sharing best practices, and opening up communications."
3. Engage in Best Technological Pursuits, Self-service Practices, and Virtual Booth
Customer self-service is becoming the preferable support channel over hands-on call and agent support. In fact, over 81% of customers attempt to self-serve via search engines, company websites, mobile apps, or chatbots. This helps in delivering low-effort, high-value, and personalized customer experiences.
You can learn about more such interesting facts and technological solutions at Support (re)Focus 2022. And you know what we have a dedicated virtual booth to help you meet and interact with exhibitors like ASP, Clocktower Advisors, and more.
The best part is that it does not end here; you can get to know a lot more about self-service, omnichannel strategy, reinventing online communities, and more at this most magnificent support fiesta of the year.
4. Nail 2023 Support Trends
In a survey of over 96,000 US consumers, Forrester found that 19% of brands performed worse on customer experience than they did in the previous year. Therefore, after fighting tooth and nail to keep up with the sinking ship during Covid-19, business owners are now facing a confluence of increased customer expectations and changing CX trends.
For instance, the opening keynote of the Support (re)Focus will discuss the major challenges and ways to drive revenue and ARR as the customer industry is transforming. This fiesta also helps offload a major chunk of customer service operations by helping you network with industry juggernauts, envision and learn round-the-clock customer support insights and embrace the ML, AI, and cognitive tech route. This helps you sail smoothly through 2023 –an year of thinking out-of-the-box and adopting non-conventional means.
Wrapping Up!
And you thought knowledge sharing is a snooze?
Consider this high-powered support fiesta as a golden ticket to scale your business with legends and their many cents. Transform the customer experience landscape and usher into 2023 armed with all the latest support tools and practices.
So, are you all ready for this adrenaline-fuelled carnival called Support (re)Focus 2022, premiering on December 8 at 8 AM PST? Don't forget to save your seat to pivot from a vision to rewarding action.
See you at our virtual booth to engage, build, and get illuminated (the aha moment we all are desperately waiting for!) =D